Saint George's Receives Two Giant African Snails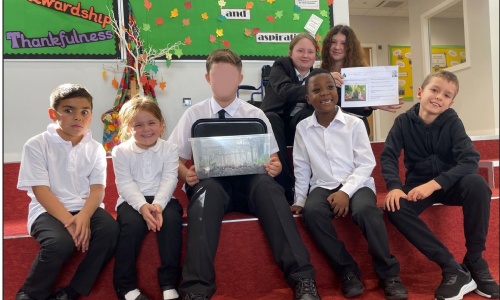 Saint George's Primary Phase received an exciting present of some baby Giant African Snails!
Saint George's Church of England Secondary Phase came up with the creative idea to bring the Aletheia Academies Trust member schools together with the exciting shared experience of caring for snails; this is also a part of Saint George's CofE Secondary Phase Science Department's initiative, to attempt to bridge the cross-curricular gaps between Secondary and Primary science education.
A few of the Secondary Phase Students, along with the Head of Science Mrs Fry, sourced and collected the snails ethically through Facebook Marketplace before putting together their new homes. Then on Wednesday 5th October the collective delivered to nine of the Aletheia Family of Schools their brand-new school pets. When the secondary students brought the snails to Saint George's Primary Phase, they taught the children all about how to care for them, including the fact that they have to be sprayed with water every day to make sure that their shells don't dry out, and to make sure that they have eggs shells to make their own shells strong and hard.
The Primary has named our school's snails Belle and Biscuits! The children are very excited to see how they will grow and develop from their tiny size of 1cm to a possible 20cms long. Allowing the children to care for these low-maintenance organisms will offer a variety of ways to link to the science curriculum as well as to support the individual growth of pupils, through a sense of responsibility for a living thing.