Gravesham Festival of Christmas Lights 2022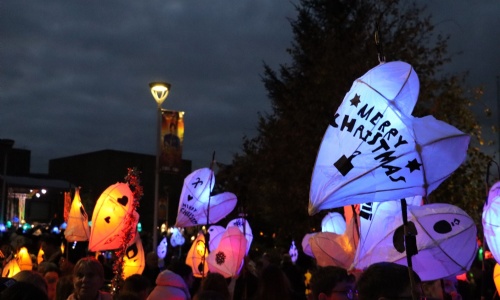 On Friday 18th November saw Saint Georges CofE all through school, take part in Gravesham's, largest to date, Lantern Festival of Christmas Lights.
In the weeks before the big event, both phases took part in a Design and Technology workshop provided by SameSky, where they created their very own lanterns using traditional Papier Mache techniques. Each phase had its own theme to base their design on, before letting their imaginations create their very own masterpiece. This was the perfect opportunity for the students to expand on their DT skills and take part in an extra-curricular activity, all in aid of celebrating the borough event.
The lanterns were attached to canes with LED lights on the end, to then create the sea of lights that lined the Woodville Community square before being paraded through the busy Gravesend high street. With beaming smiles, the students walked, danced, and marched proudly representing the school.
The parade ended back at The Woodville, where the children were greeted by Santa Clause and The Mayor of Gravesham, who cheered on the crowd to count down to the turning on of the Christmas tree lights.
In case you missed it, take a look at the video produced by CohesionPlus of the Gravesham lantern festival of Christmas lights! https://www.youtube.com/watch?v=vXscVC8KBYU
There is also a full article on the event! On Cohesion Plus