'Wear Yellow Day' in Support of Cystic Fibrosis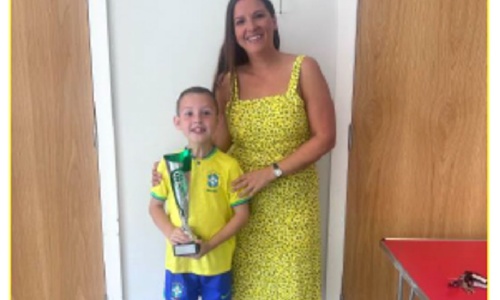 Friday 16th June 2023 was a special day for the Primary Phase as they held a special worship to shine a light and raise awareness about Cystic Fibrosis, a condition which one of our Year 3 pupils, Ronnie has had since birth.
Cystic fibrosis is an inherited condition that causes sticky mucus to build up in the lungs and digestive system. This causes lung infections and problems with digesting food.
In the UK, most cases of cystic fibrosis are picked up at birth using the newborn screening heel prick test. Symptoms usually start in early childhood and vary from child to child, but the condition gets slowly worse over time, with the lungs and digestive system becoming increasingly damaged. Treatments are available to help reduce the problems caused by the condition and make it easier to live with, but sadly life expectancy is shortened - NHS Website.
The children were encouraged to wear something yellow to school to mark the day. During worship, they watched a short film explaining more about Cystic Fibrosis and then Ronnie, very bravely, talked to the whole school about what it feels like to have the condition and how it affects his life. We are so proud of Ronnie for sharing his story with us and for being so positive. His main message was that having a disability doesn't mean that you can't be a champion – and below is a photo of him with his football trophy to prove it!
Thanks to all the generous donations, the school was able to raise £1448 for the Cystic Fibrosis Trust. If you would like to donate, please visit our special fundraising page: https://cysticfibrosistrust.enthuse.com/pf/melanie-fry.
A message from Ronnie and his mum
Ronnie and I are both so grateful for all of your kindness and support today. The children, in their beautiful yellow outfits, all listened so attentively and asked some brilliant questions. They were amazing! Ronnie wanted to get to £1000 in donations and he has smashed that target! So thank you for your generosity. A special thank you to Mrs Fry for organising such a lovely day.
With love Emma and Ronnie