Year 12 Futures Day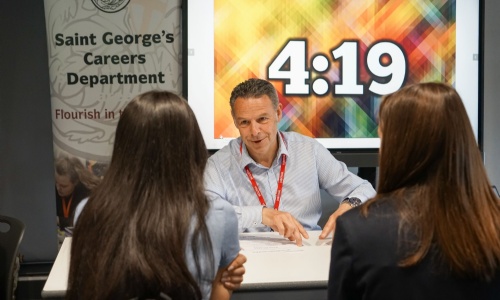 On Thursday 22nd of June, we held a Year 12 Futures Day. Our Careers team lead and event organiser, Ms Jordan stated that the purpose of the event was to allow Year 12 students to prepare for their next steps Post 18 as well as to give them the opportunity to develop networking skills, contacts and to investigate careers across a wide range of industries allowing them to make well-informed choices about their future.
The event was attended by 33 companies, 38 employers and 114 students. One student commented, "I loved meeting the employers and wish we had even more time". Another student said that they found the event really useful and feel better informed about what they can do next.
We also received positive feedback from the employers. "I found this to be really rewarding personally as an ex-student. It was great to meet some clearly talented students who had thought out their careers" remarked an Alumnus of Saint George's who now works for Kent Fire and Rescue.
The representative from NatWest also had this to say, "It was a privilege to support St George's Church of England School. We thoroughly enjoyed the experience and were extremely impressed at the interaction and enthusiasm from your students. They are a credit to your school. We absolutely loved the rotating table format! What a fantastic idea! The event was well-organised, so thank you as I know how much hard work you have all put in to make this a success".
Special thanks to all the participating companies and employers listed below. A job well done to our Careers team lead, Ms Jordan and Careers administrator, Mrs. Hallam for putting together a successful event. Thanks to Mark Machin (Year 8) for assisting our guests with refreshments.
Participating Companies and Employers
Charlton Athletic Community Trust
Department for Work and Pensions
James Eckersley - Photographer
Medway NHS Foundation Trust (RPA)
Rebecca Hopkins, Medical Communications
KOAL Consultancy