Art and Design (Fine Art)
Curriculum Leader: Ms L McConville - mcconvillel@saintgeorgescofe.kent.sch.uk
Art & Design (Fine Art) at Saint Georges School is a creative and exciting course involving both practical work and critical appreciation. We have a dynamic and individual-centred approach to Art A level - one that emphasises flexibility and creativity. Although technique is a vital element of the course, we are above all interested in allowing students to develop their own artistic style and opinions – a personal creative voice.
Subject Requirements
GCSE Art - Grade 5 or above (or equivalent BTEC Art - Merit or above)
Intent
We aim to provide a flexible and creative environment for making Art – both in terms of the atmosphere in the department and the facilities we offer. We encourage students to take risks and to learn from mistakes. We nurture a deep engagement in the learning process that requires students to take ownership of their work, invest in it and further extend their skills and creativity.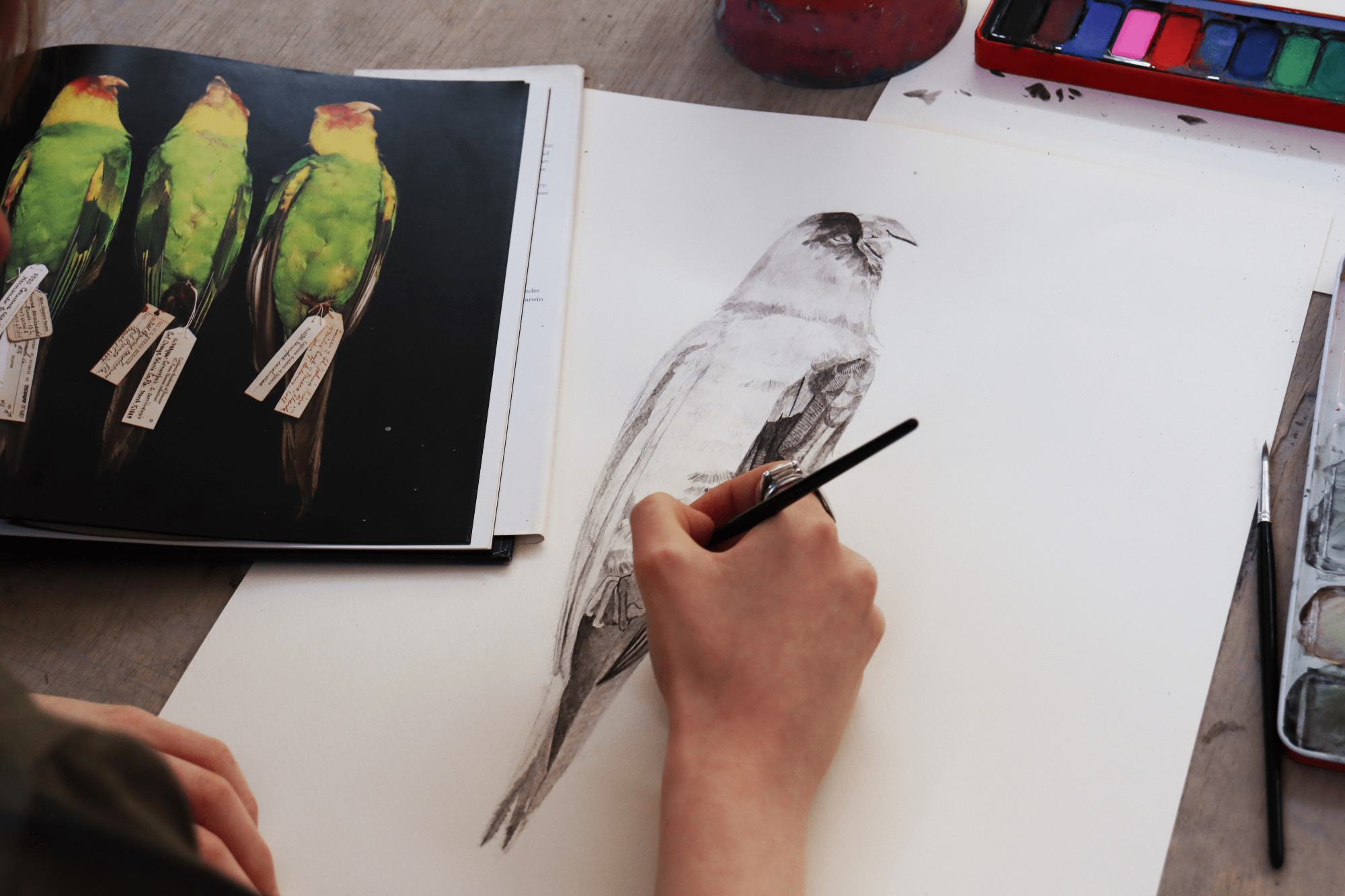 Implementation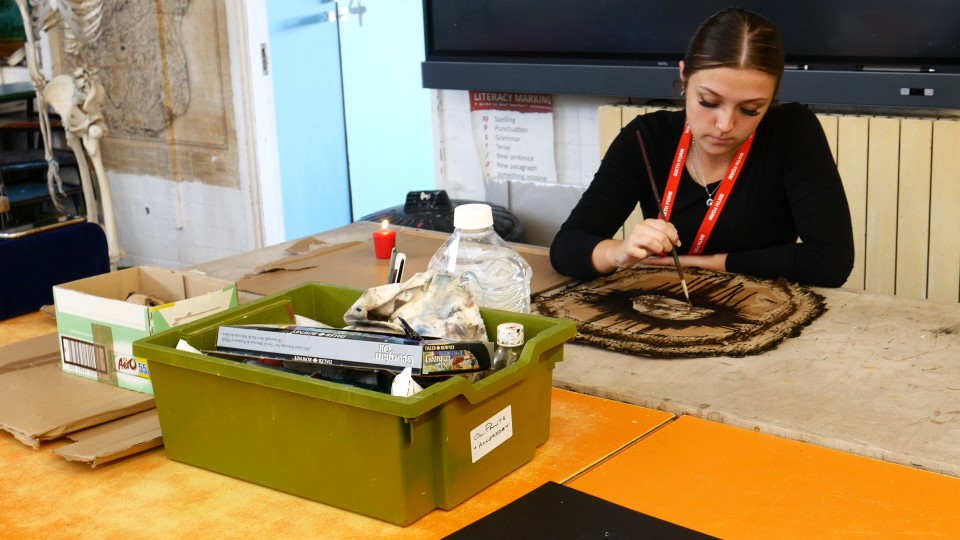 By providing students with access to facilities and teaching across a broad range of media and artistic disciplines, we allow students to determine their own direction using their ideas, rather than prescribing a set medium or discipline. Accordingly, we have an extensive range of resources for drawing, painting, printmaking, and ceramics. Art students are required to engage in the creative process in their own time as well as taught lessons.
We ensure that SEND and disadvantaged children are given the necessary support in class to fully access the Curriculum and that equal opportunities are given to all.
Impact
Fine Art offers opportunities for students to develop their own creativity. Students develop an understanding of creative processes, along with an ability to observe and to think, to solve problems and communicate in a visual way. Fine Art skills enable students to work independently and to make their own discoveries by exploring ideas, other artists' work and different materials and techniques. It equips students with the skills and knowledge to create personal and imaginative work. Art students learn to reflect purposefully on what they have created and to understand how their work relates to the wider world of art and design through independent research, group discussion and written critical analysis. The A level Fine Art course will allow students to develop the ability to analyse the work of others from historical and contemporary sources and make connections between this work and their own. Students will continue in life to be adventurous, and creative and possess enquiring minds.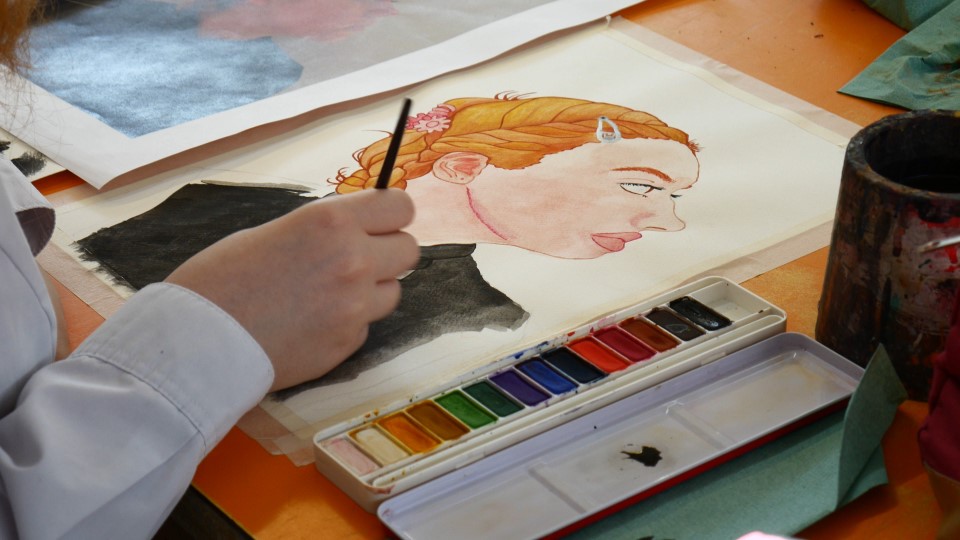 Topics
Students are required to work in one or more area(s) of Fine art, such as those listed below. Students may explore overlapping areas and combinations of areas:
drawing and painting
mixed-media, including collage and assemblage
sculpture
ceramics
installation
printmaking
moving image and photography.
Assessments
This course will provide candidates with a variety of experiences employing a range of media, processes and techniques appropriate to the chosen area of study.
| Component 1 (60%) | Component 2 (40%) |
| --- | --- |
| Personal Investigations; including written aspects. | Externally set assignment. |
| 1000-3000 words. 96 marks | Preparatory period + 15 hours of supervised study time. 96 marks. |
Examining board link: AQA A Level Fine Art
Art and Design Future Paths
Higher Education options: BTEC Diploma Art, Foundation Studies Art and Design, BA Hons Art and Design, 2D and 3D animation 3D design, Applied arts Architecture, Art history, Art therapy, Ceramics, Digital media, Fine art painting, Fine art printmaking Fine art sculpture, Game design Illustration, Industrial design Interior architecture and design, Visual effects for film and television.
Career options: Animation, Architect, Art technician, Art therapist, Art valuer, Artist in residence, Arts administrator Community arts worker, Designer (interior/fashion), Illustrator, Lecturer, Multimedia artist, Mural artist Museum/gallery curator Painter, Printmaker, Sculptor, Teacher.
Extra Resources
Revision Materials