Chemistry
Curriculum Leader: Mrs A Sehgal - sehgala@saintgeorgescofe.kent.sch.uk
Chemistry helps us to understand the world in which we live and underpins a wide range of science-based degree courses and careers. This course is designed to be stimulating, enjoyable and challenging. We want you to develop a passion for the subject and understand its practical relevance, A-level Chemistry builds upon the knowledge gained at GCSE but goes much further revealing some significant simplifications taught at GCSE. A Level Chemistry will teach you problem-solving, teamwork, numeracy, communication and practical skills, as well as hugely valuable independent study and reasoning skills.
Subject Requirements
GCSE English - Grade 5 or above
GCSE Maths - Grade 5 or above
GCSE Additional Science or GCSE Chemistry - Grade 5 or above
Intent
The aims and objectives of the Pearson Edexcel Level 3 Advanced GCE in Chemistry are to enable students to develop:
Essential knowledge and understanding of different areas of the subject and

how they relate to each other

A deep appreciation of the skills, knowledge and understanding of scientific

methods

Competence and confidence in a variety of practical, mathematical and

problem-solving skills

Their interest in and enthusiasm for the subject, including developing an interest

in further study and careers associated with the subject

An understanding of how society makes decisions about scientific issues and

how the sciences contribute to the success of the economy and society.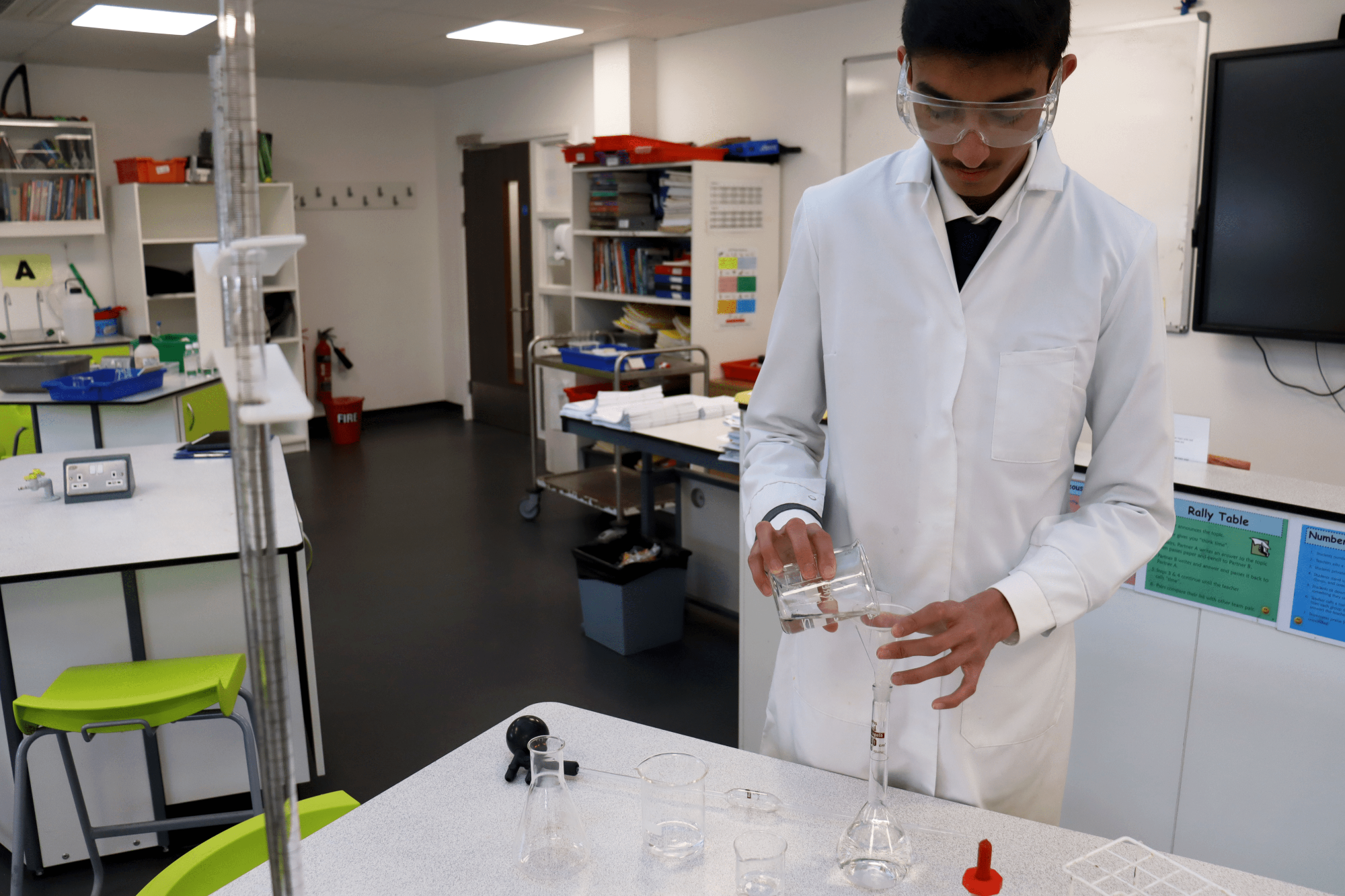 Implementation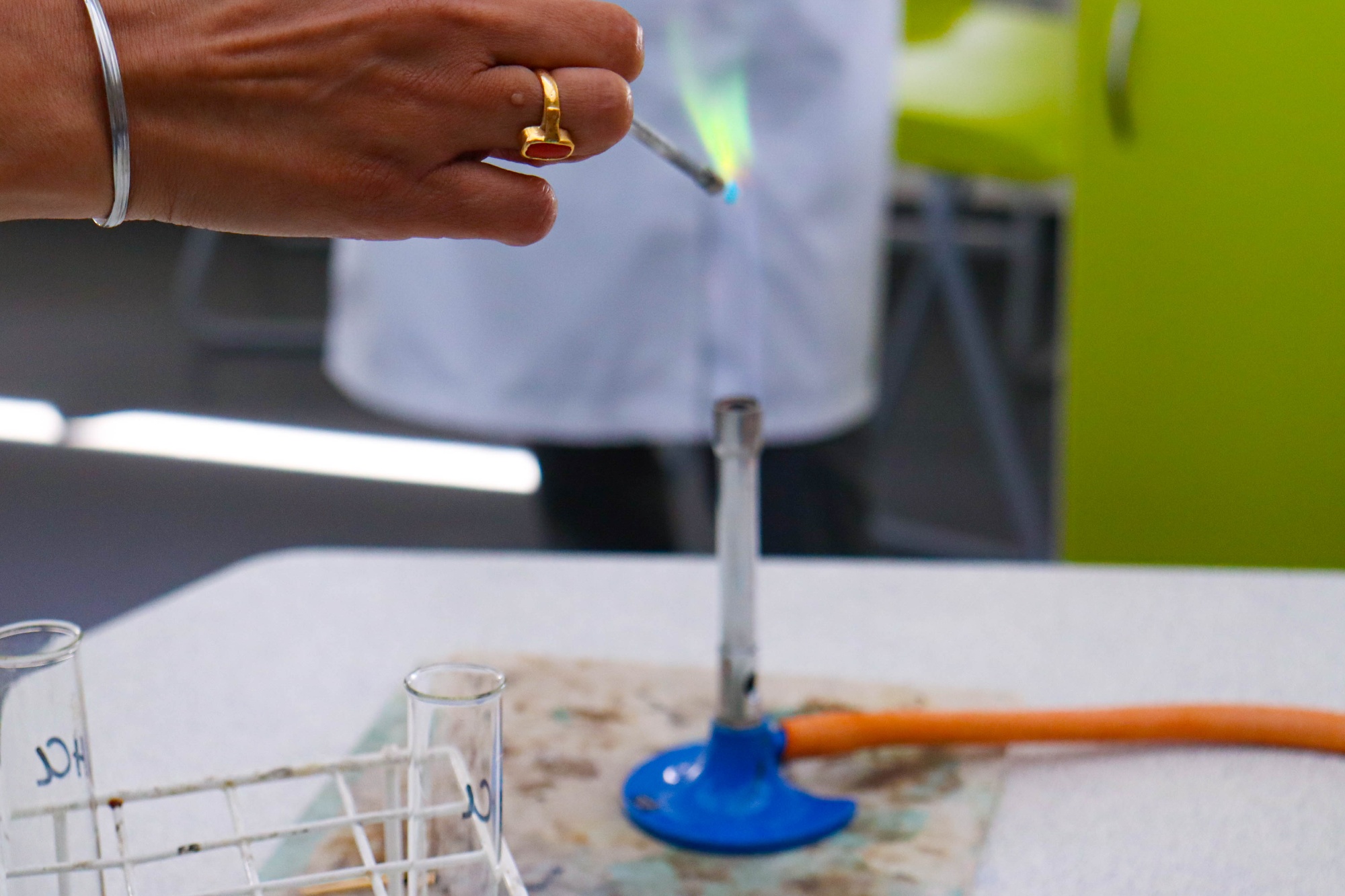 Students will be expected to:
Demonstrate and apply the knowledge, understanding

and skills described in the content. They will also be expected to analyse, interpret

and evaluate a range of scientific information, ideas and evidence using their

knowledge, understanding and skills.

Demonstrating their knowledge, students will be able to undertake a range of

activities, including the ability to recall, describe and define, as appropriate.

Demonstrating their understanding, students will be able to explain ideas and

use their knowledge to apply, analyse, interpret and evaluate, as appropriate.
Core practicals will be assessed through examination.
There are opportunities for students to develop mathematical skills throughout the content. They are required to apply the skills to relevant chemistry contexts.
We ensure that SEND and disadvantaged children are given the necessary support in class to fully access the Curriculum and that equal opportunities are given to all.
Impact
Chemistry is fundamentally an experimental subject. This course provides numerous opportunities to use practical experiences to link theory to reality and equip students with the essential practical skills they need. Chemistry develops an understanding of how chemical elements interact and the role they play in making up our world and beyond an appreciation of "How Science Works". The relevance of science beyond the laboratory analytical, evaluative and synoptic skills, and practical skills, including the ability to plan and manipulate information and data. The skills gained over the course build students' confidence and ability in the following areas: Independent thinking, use and application of scientific methods and practices, research and referencing.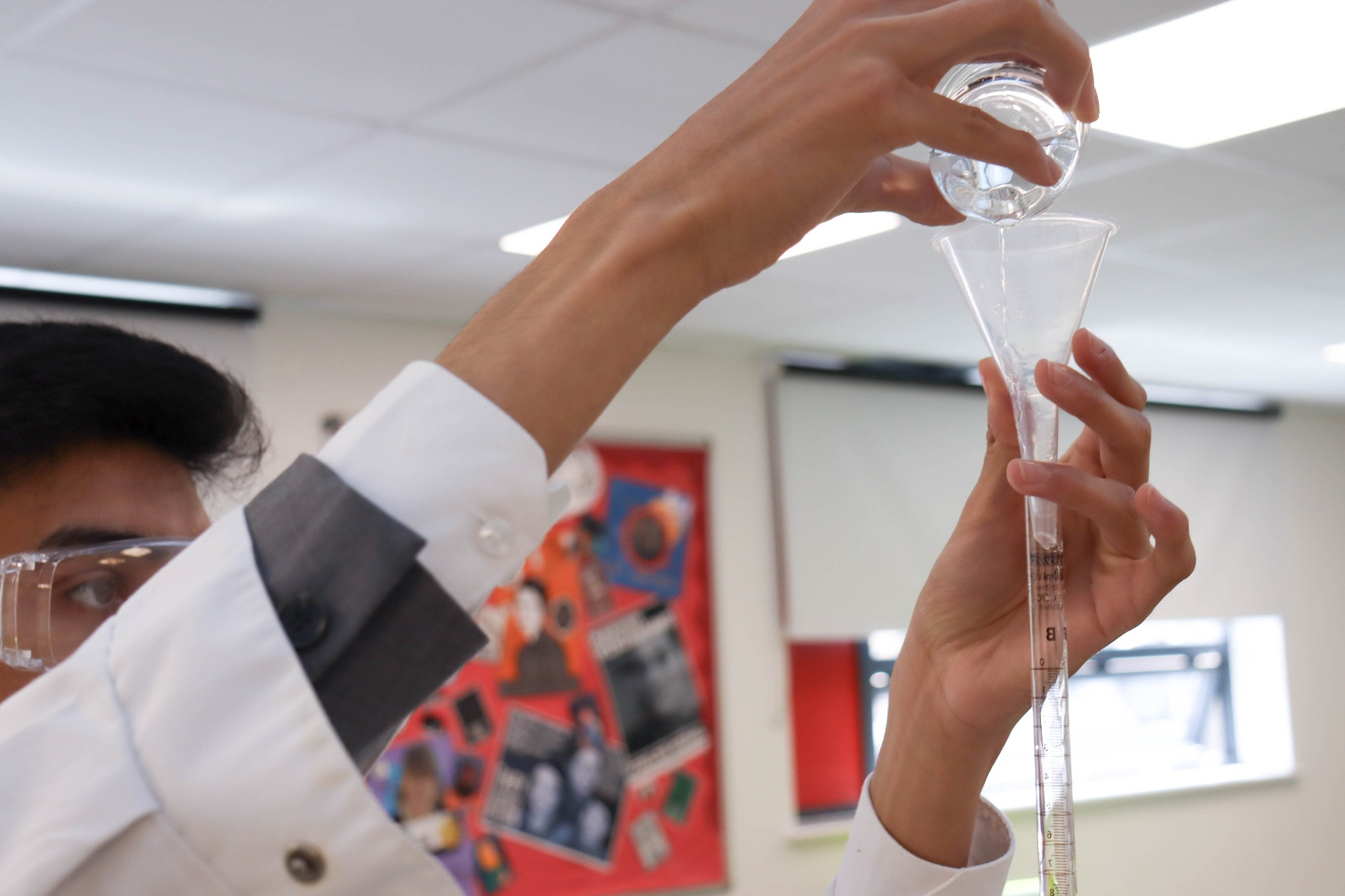 Topics
Year 12 Chemistry Topic Information
| Topic | Topic Name |
| --- | --- |
| 1 | Atomic Structure and the Periodic Table |
| 2 | Bonding and Structure |
| 3 | Redox | |
| 4 | Inorganic Chemistry and the Periodic Table |
| 5 | Formulae, Equations and Amount of Substance |
| 6 | Organic Chemistry | |
| 7 | Modern Analytical Techniques | |
| 8 | Energetics | |
| 9 | Kinetics | |
| 10 | Equilibrium | |
Year 13 Chemistry Topic Information
| Topic | Topic Name |
| --- | --- |
| 11 | Equilibrium II 1 |
| 12 | Acid-Base Equilibria |
| 13 | Energetics || |
| 14 | Redox || |
| 15 | Transition Metals |
| 16 | Kinetics || |
| 17 | Organic Chemistry || |
| 18 | Organic Chemistry ||| |
| 19 | Modern Analytical Techniques || |
Assessments
A-Level Qualification: 100% Examination - 3 exam papers.
Paper 1 - 90 marks, 30% weighting, 1 hour 45 minutes
Paper 2 - 90 marks, 30% weighting 1 hour 45 minutes
Paper 3 - 120 marks, 40% weighting 2 hours 30 minutes
Practical Endorsement: All students studying A-Level Chemistry must complete 12 'Required Practicals' and a separate endorsement of practical skills will be taken alongside the A-level. This will be assessed by teachers and will be based on direct observation of students' competency in a range of skills that are not assessable in written exams.
Examining board link: Edexcel Chemistry
Chemistry Future Paths
Success with A-level chemistry will prepare you for a future in chemistry, pharmacy, pharmacology, chemical engineering, biochemistry, biomedical sciences, Optometry, environmental science, nursing, occupational therapy, medicine and dentistry.
Extra Resources
One of the best ways you stand out during your Sixth Form studies is through the amount of independent study you undertake outside the classroom. Regardless of your future plans, the ability to extend yourself and research independently into your interests is an invaluable skill – this will support your university applications and/or future job applications and interviews. All universities expect more than just classroom knowledge, which is where super curricular activities come in; these are academic enrichment tasks that show you are interested in your studies beyond what is on the school syllabus.
Revision Materials