French
Curriculum Leader: Mr E Cave - cavee@saintgeorgescofe.kent.sch.uk
We believe languages should appeal to all students. The AQA A Level French qualification has been designed to inspire students to develop their linguistic skills. The A-level specification builds on the knowledge, understanding and skills gained at GCSE. It constitutes an integrated study with a focus on language, culture and society. It fosters a range of transferable skills including communication, critical thinking, research skills and creativity, which are valuable to the individual and society.
Subject Requirements
GCSE French - Grade 5 or above at higher entry
Intent
Our aim is to provide all students with the opportunity to continue developing language skills provided by the GCSE studies by allowing students to express themselves through a wider range of topics which include cultural heritage, politics as well as through the study of a literature text and the study of a film. Students are therefore able to develop language skills but also gain a wider understanding of French and Françophone culture.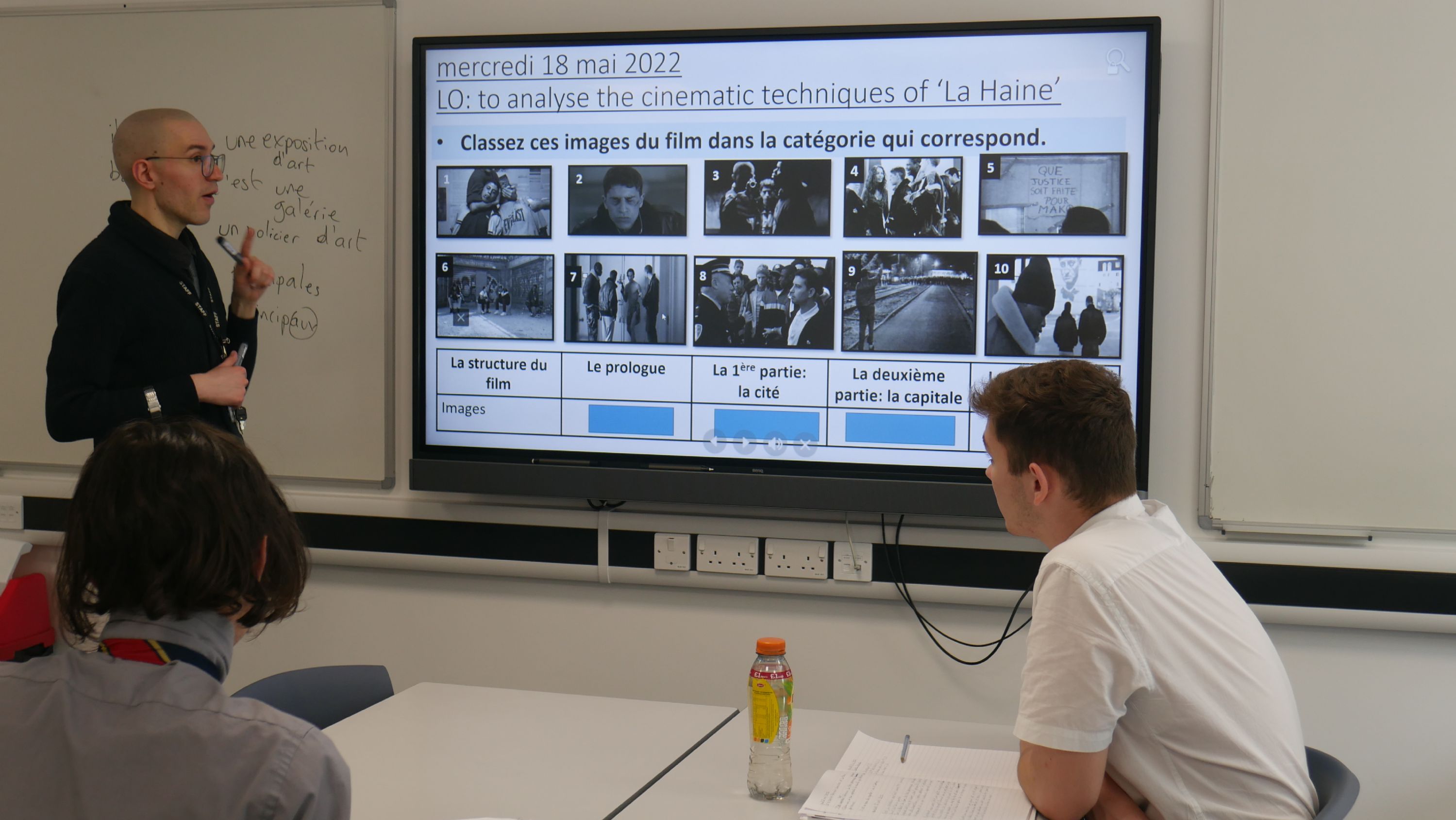 Implementation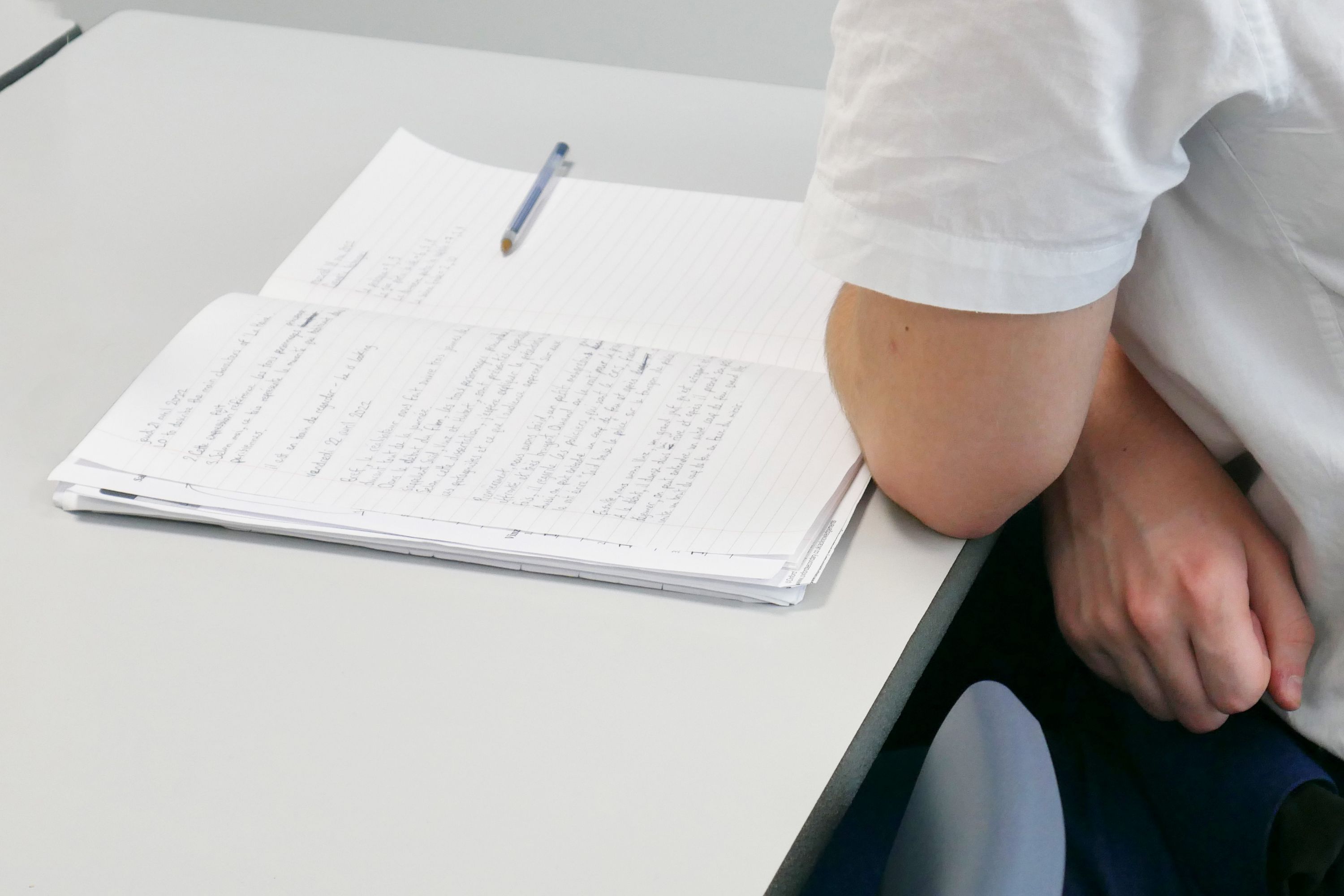 Students study technological and social change, looking at diversity and the benefits it brings. They will study highlights of French-speaking artistic culture, including Francophone music and cinema, and learn about political engagement and who wields political power in the French-speaking world. Students also explore the influence of the past on present-day French-speaking communities. Throughout their studies, they will learn the language in the context of French-speaking countries and the issues and consequences which have shaped them. Students will study texts and films and have the opportunity to conduct independent research on an area of their choice. The assessments place an emphasis on spontaneity and grammar, as well as providing plenty of opportunities for students to apply their knowledge independently and creatively.
We ensure that SEND and disadvantaged children are given the necessary support in class to fully access the Curriculum and that equal opportunities are given to all.
Impact
Students will:
Enhance their linguistic skills and promote and develop their capacity for critical thinking on the basis of their knowledge and understanding of the language, culture and society of the country or countries where the language is spoken
Develop control of the language system to convey meaning, using spoken and written skills, including an extended range of vocabulary, for both practical and intellectual purposes as increasingly confident, accurate and independent users of the language
Develop their ability to interact effectively with users of the language in speech and in writing, including through online media to build fluency and confidence.
Engage critically with intellectually stimulating texts, films and other materials in the original language, developing an appreciation of sophisticated and creative uses of the language and understanding them within their cultural and social context
Develop knowledge about matters central to the society and culture, past and present, of the country or countries where the language is spoken
Equip themselves with transferable skills such as autonomy, resourcefulness, creativity, critical thinking, and linguistic, cultural and cognitive flexibility that will enable them to proceed to further study or employment
Develop their capacity for critical and analytical thinking through the language of study and act as independent researchers in the language of study.
Topics and Themes
The four themes are studied alongside two works (one literary text and one film).
Theme 1: Aspects of French-speaking society: current trends
Family
Cyber society
The role of volunteering
Theme 2: Artistic culture in the French-Speaking world
A culture proud of its cultural heritage
Francophone music
A look into the cinema industry
Theme 3: Aspects of French-speaking society: current issues
Positive aspects of a diverse society
A study of marginalised people
A study of the justice system
Theme 4: Aspects of political life in French-Speaking world
Politics and teenage rights
A study of striking in France
Politics and the immigration system
Assessments
100% Examination.
Assessment tasks will be varied and cover listening, speaking, reading and writing skills.
Paper 1: Listening, reading and writing (50%)
Paper 2: Writing (20%)
Paper 3: Speaking (30%)

Written examination: 2 hours and 30 minutes

Externally Assessed

100 Marks

Written examination: 2 hours

Externally Assessed

80 Marks

Oral examination: 21-23 minutes

Internally conducted and externally assessed

60 Marks

Aspects of French-speaking society: current trends and issues
Artistic culture in the French-speaking world
Aspects of political life in the French-speaking world
Grammar

One text and one film or two texts from the list set in the specification
Grammar

Individual research project
One of four themes (Aspects of French-speaking society: current trends, Aspects of French-speaking society: current issues, Artistic culture in the French-speaking world, Aspects of political life in the French-speaking world).
Examining board link: AQA A Level French
French Career Paths
Students can continue with languages to a degree level. Many universities offer combination degrees where a language would form part of that combination. In the world of work knowledge of a language is always looked upon favourably, it also demonstrates confidence and highly developed communication skills.
For more information on Careers, please visit here.
Extra Resources
Revision Materials