Music
Curriculum Leader: Mr D Mackey - mackeyd@saintgeorges.kent.sch.uk
Music is life, itself

Louis Armstrong - jazz trumpeter
You'll learn essential skills from performing and composing to producing, sound engineering and promoting a new track, album or concert. Through a combination of practical experience and written assignments, this vocational qualification provides level 2 learners with the knowledge, skills and understanding needed for a career in the music sector. This course also supports the development of musical fluency and provides access to further study of music at level 3.
View our Learning Journey for Music here
Intent
The Music curriculum at KS3 covers a broad range of topics with a focus on the key pillars of the model music curriculum. Our curriculum is designed in a way to allow students to experience, perform and create music from different cultures, genres, and time periods. The curriculum is there to motivate and inspire students with a thought towards KS4 and KS5 courses, as well as wider extracurricular opportunities. Key skills are introduced at KS3 and are developed throughout the musical journey to ensure academic excellence at KS4 and KS5.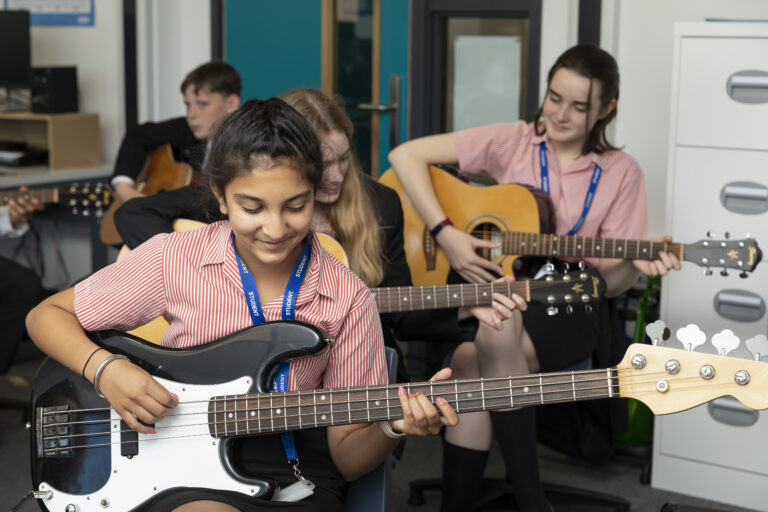 Implementation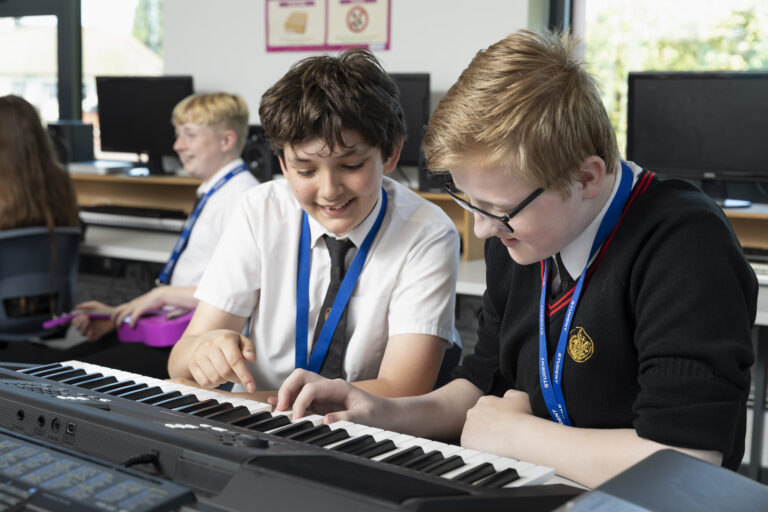 Students are provided with lots of opportunities for collaborative working; composing, ensemble performance, listening and appraising. Lessons are carefully sequenced and build on prior learning with a view to future topics. Lessons are fully inclusive to support the progress of individual students who have a range of different starting points.
We ensure that SEND and disadvantaged children are given the necessary support in class to access the Curriculum fully and that equal opportunities are given to all.
Impact
The Music journey encourages students to develop confidence, self-respect, resilience, problem-solving and presentation skills. Our students become 'creative thinkers'. It prepares them for a life in, or outside of Music. It allows students to flourish and express themselves in a nourishing setting. Overall, music plays an important role in the life and ethos of the school.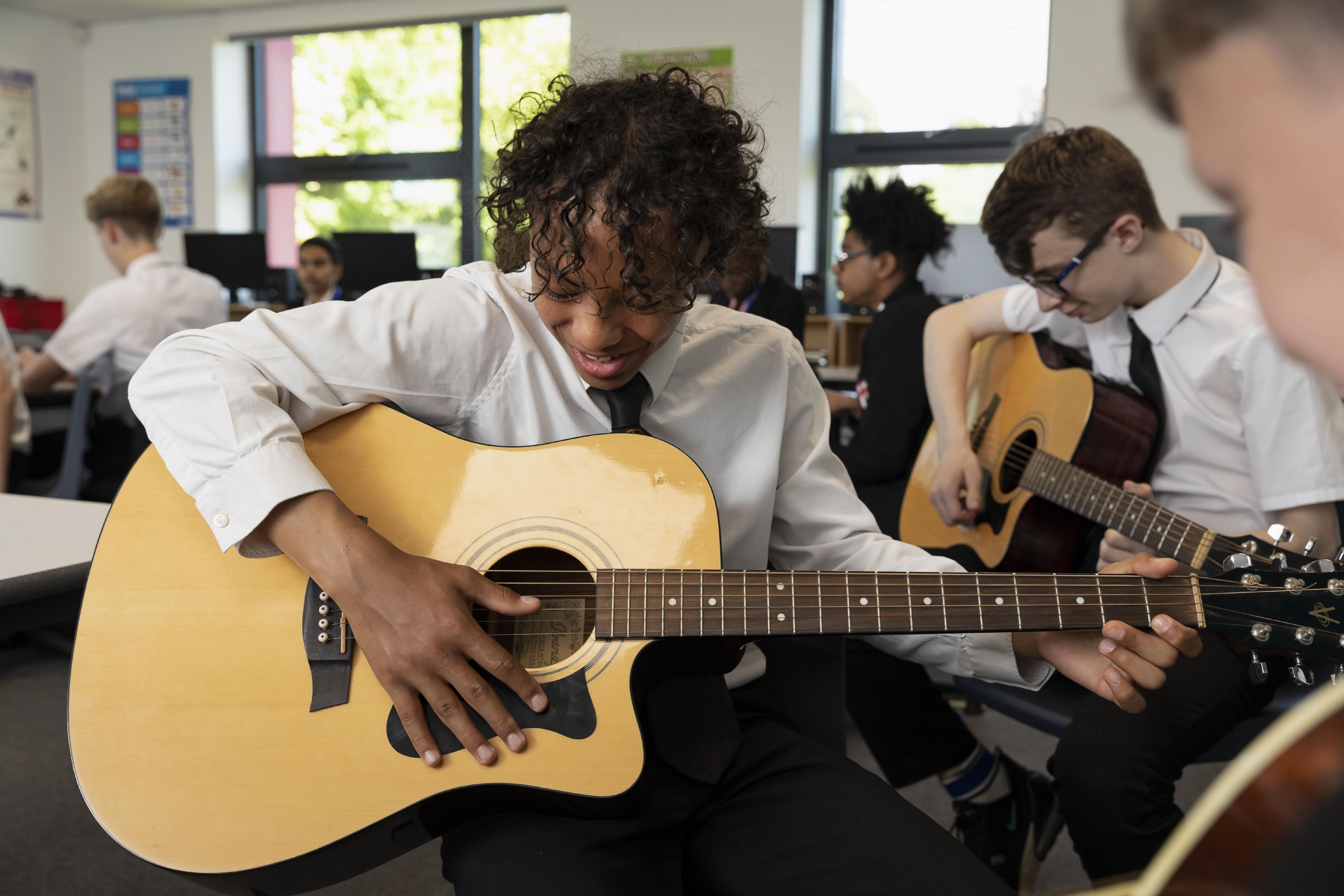 Music at Key Stage 3 (KS3)
Per fortnight: 1 Lesson
Pupils are given opportunities to explore different genres and styles and learn and develop different performance and compositional techniques. The curriculum allows students to be creative and express themselves in a nourishing environment. Students are encouraged to reflect on their own performance and composition skills
| Year 7 | Year 8 | Year 9 |
| --- | --- | --- |
| MADTSHIRT, Introducing Composition, Introducing Ensemble Performance. | Through The Decades, Guardians of the Galaxy (writing Music for film), Rockband. | Music is offered as part of the taster rotation. |
Music at Key Stage 4 (KS4)
Per Fortnight: 5 Lessons
At KS4, the course offered is the BTEC Level 2 First Award in Music. The qualification covers key content on the music industry, the job roles and how they interlink. Students will get the opportunity to plan, develop and deliver a music product in the form of a recording. They will explore music performance and build on both rehearsal skills and performance skills in an ensemble setting. They develop their music sequencing and composition skills through Unit 7 where they will compose to a brief as it is often pertinent in the music industry. The course is assessed through a combination of coursework and the music industry exam, Students who choose to study Music at KS4 are strongly encouraged to have a significant role in public performances and events, as well as an interest in playing or learning to play a musical instrument.
| Unit | Unit Description |
| --- | --- |
| 1 | The Music Industry – Understanding different types of organisations and job roles that make up the music industry. |
| 2 | Managing a Music Product – Putting on a live performance or creating a recording, including the marketing and practical organisation that is involved in undertaking this task as well as evaluating the whole process. |
| 5 | Music Performance – This gives learners an opportunity to develop their instrumental skills and review their practice in the build to a performance. The focus is on rehearsal techniques and performance-based skills. |
| 7 | Music Sequencing – Exploring the techniques used on Logic Pro X to create a composition to a brief detailing your journey and progress throughout. |
GCSE Assessments
Written Examination 25% of the course. 75% Internally Assessed Practical work.
The grades that can be achieved are Pass, Merit, Distinction and Distinction*.
| Unit 1: The Music Industry (25%) | Unit 2: Managing a Music Product (25%) | Unit 5: Music Performance (25%) | Unit 7: Music Sequencing (25%) |
| --- | --- | --- | --- |
| Written Exam. Externally Assessed. 1 Hour. 50 Marks. | Internally Assessed Practical. | Internally Assessed Practical. | Internally Assessed Practical. |
| This unit will allow you to gain a good understanding of the scope of the music industry with a view to getting work in and using the organisations that exist. You will investigate music organisations to find out about the work they do and how they relate to and rely on one another. You will also be given the opportunity to find out about the people who work in these organisations, from performers to people who work in technical, production and administrative roles. | This unit will enable you to manage the planning, delivery and promotion of a live concert, recording, or other music product. The success of your music product will rely heavily on the planning and development process. It is important that different types of audiences are understood, and successful promotion is able to effectively engage these audiences. Your research should introduce you to elements of industry practice. | You will explore skills and make decisions as you prepare for performance. Planning and practising are both vital parts of a successful performance; you should be aware of when your performances are due to take place so that you are able to plan your preparation time. You should be encouraged to choose your own pieces for performance to an audience. You should work with a specialist teacher to improve your technique and should keep a practice/production log that details how you have improved over the duration of the unit. | In this unit, you will be using sequencing software packages to create music in response to a realistic, music-industry-led brief. |
Exam Board: BTEC Level 2 First Award in Music
Music Future Paths
Students can progress further to obtain a BTEC Level 3 Extended Certificate Music Performance
Alongside the obvious routes through further and higher education into the media, music and production environment, the leisure and entertainment industry is one of Britain's largest employers.